How to Promote Outdoor Education During the School Year
It wasn't that long ago that we published an article on how to prevent learning loss during summer vacation, and now here we are on the flip side of the coin, checking in to make sure you're child doesn't experience outdoor education loss as the new school season begins.
Yes indeed, as kids head back to class, the activities that kept them engaged through the summer fall somewhat to the wayside. Given the scientifically backed benefits of outdoor learning, it would be a shame to let this supplementary form of education slip. Is there something you can do about it? You bet!
By becoming an active voice in your community, you can make a difference. Let's find out how.
4 Ways to Keep Your Local School Invested in Outdoor Education
1. Help Organize a School Learning Garden to promote Outdoor Education
An example of this sprouted up in North Vancouver BC, where Sutherland Secondary School together with the Edible Garden Project, the North Vancouver School District, the City of North Vancouver and our own Foundation was able to establish a community learning garden, providing an outdoor classroom for the local school and neighboring community. The results since have been tremendous. The project not only helps facilitate social, environmental, and economic benefits for the community through the development of a plant to plate local food system, it is also feeds the minds of young students. Through the initiative, they learn about horticulture, sustainability, community responsibility, and much more.
A school garden is truly an ultimate solution for any gap in outdoor learning during the school year. Follow these five tips to organizing one of your own.
2. Help Institute All-Season Outdoor Education Programs
It's easier to encourage your local school board to add outdoor learning to the curriculum during the late summer and spring when all they need to do is open the doors and let nature's bounty dictate the agenda. But in Canada's autumn and winter, you will need to be more proactive in providing ideas. For instance, you can help organize a wintertime eco-tour complete with a program that addresses how vegetation and wildlife adapt to the changing season. In the autumn, you could organize a local farm visit so that students could witness (and participate in) the harvest firsthand. View more on outdoor learning ideas for the winter here and for the fall season here.
3. Help Supplement Learning Materials with Outdoor Education Themes
While school-provided activities will keep kids invested in outdoor learning while at school, you want to plant the seed so that they remain interested when back at home. A wide variety of tools are used to educate in modern schools, with a combination of text, video, and online media delivering informative content to today's student. Make sure these materials promote outdoor learning themes too.
Consider stocking the school and classroom library with kid-friendly reading material on gardening/farming and healthy eating, including our Foundation's own Plant a Seed & See What Grows and What to do with What You Grew children's books. They're free to download and hardbound copies are available for purchase. Both books are available in French. These books are part of our Foundation's Plant a Seed-READ! program. If you're interested in bringing the Plant a Seed-READ! program to your local public or school library or retail store, please email us at info@seewhatgrows.org for more information.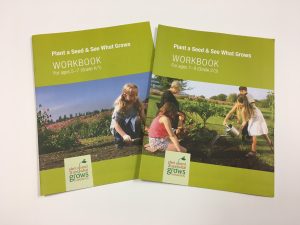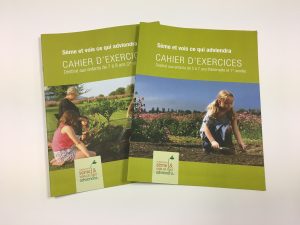 Our Foundation also provides free comprehensive resource kits in English and in French for primary grades that comes in two versions: one for K to Grade 1, and the second for Grades 2 and 3. A typical kit includes everything students need to discover and discuss the life cycle of plants: the beautifully illustrated hardcover children's books written by Roland Gahler; 26 paged full-colour workbooks for the applicable grade cluster: K-Gr. 1 or Gr. 2-3 which guides students through an exploration of the life cycle of a plant grown from seed; organic seeds and colouring books.
The Foundation's resource kits are gateways to encourage further exploration. Schools can visit a Farmers Market or local grocery store and discover what happens with plants after they're harvested. Another option is to visit a local farm to learn about this industry and how plants are grown and harvested as crops. Students can also trace the economic pathway from the seed to a serving of food on one's table. They will also learn about various nutrition labels such as organic or non-GMO and what they tell us.
L'Ecole Bilingue, Vancouver, BC; Porter School, Coquitlam, BC; École communautaire La Croisée de Robertville, NB; Port Weller, St-Catharines, ON are just some of the schools who are currently using these great resource kits. If you're interested to avail of these materials, please email us at info@seewhatgrows.org
Of course, digital media plays a big part in today's classroom education. Classrooms are being outfitted with tablets with pre-downloaded apps to use as learning tools. Make sure these apps speak to your new outdoor learning agenda too. Here are some suggestions on apps focused on outdoor learning through gardening, farming, and fitness in addition to others that concentrate on environmental stewardship. Movies also continue to be a rewarding form of supplementary learning in the class, so choose your suggestions wisely, considering films that deliver lessons in nature and sustainability.
Your kids/students will consume the above content with fervor, and will be rip-roaring to get outdoors to learn more!
4. Encourage Traditional Classes to be Moved Outdoors (from time to time)
Outdoor education initiatives don't need to be all that groundbreaking. In fact, by moving a traditional class outdoors occasionally, teachers can provide students with a more engaging setting, complete with natural light and fresh air to better stimulate the senses and promote learning. Subjects such as math and science become more captivating when taught against a natural backdrop that uses real tangible items found in the great outdoors as learning materials. All that is needed is a warm sunny/overcast day, a portable chalkboard, and a creative take on the day's subject.
---
Do you have any other school year outdoor learning concepts that you would like to share? We'd love to hear about them! Follow our Foundation on Facebook, Twitter, and/or Google+, find this article on our recently published posts and leave a comment.
---