Seeds of Inspiration and Plant a Seed-Read! 2019 – Success Stories
The Foundation's Seeds of Inspiration Educational Program is now in its third year and we're proud to say it's grown beyond expectations. Last year set a benchmark that even our most optimistic estimates would indicate to be a challenge to meet. Yet as 2019 comes to a close, the results are in and we can report that initial projections have been blown out of the water. And by projections, we mean the number of young students and communities reached. We could not have done it without the generous support of support of Natural Factors, Whole Earth & Sea, Assured Natural, Mind Publishing, their remarkable staff, and your continued support. Let's review.
2019 Results from the Seeds of Inspiration and Plant a Seed-Read! Program
First, the Background Story
The Plant a Seed & See What Grows Foundation's Seeds of Inspiration classroom resources support current academic curricula on the seed-to-table growing cycle. The Foundation donates to classrooms and libraries the two empowering storybooks – Plant a Seed & See What Grows and What to Do with What You Grew authored by Roland Gahler.
The Foundation also provides complementary lesson materials, such as organic seeds and educational workbooks for two primary age groups. These workbooks are great resources for teachers, parents and tutors for Kindergarten-Grade 1 and Grade 2-3 students. In French, we have workbooks available for students in Maternelle-1e and 2e – 3e années. These workbooks teach young students about the process of planting a seed, taking care of it and watching it grow into food to nourish friends and family. The Seeds of Inspiration Educational Program materials, as well as shipping, are free and exclusive to Canadian elementary schools.
On the other hand, Plant a Seed – Read! program aims to reach toddlers, preschoolers and youngsters through story telling in public libraries across Canada. The program supports the reading experience with a discussion of the elements needed to successfully grow plants, where food comes from and an actual planting activity. The Foundation provides complimentary materials, such as organic seeds, a themed‐colouring book and coloured pencils.
We encourage you to learn more about the Seeds of Inspiration Educational Program here and Plant a Seed-Read! here.
Now Look at the Results!
The following is a breakdown of the Seeds of Inspiration program results, accounting for November 2018 through to June 2019:
1,055 Canadian schools participated in the program
63,325 students received the materials and had the opportunity to see the seed-to-table process
36,673 Kindergarten and Grade 1 students reached
26,652 Grade 2 and 3 students reached
The following is a breakdown of the Plant a Seed-Read! program (exclusive of the Seeds of Inspiration program) results, accounting for April 2019 through to September 2019:
78 libraries throughout Canada participated in the program, with young readers having the opportunity to experience the seed-to-table process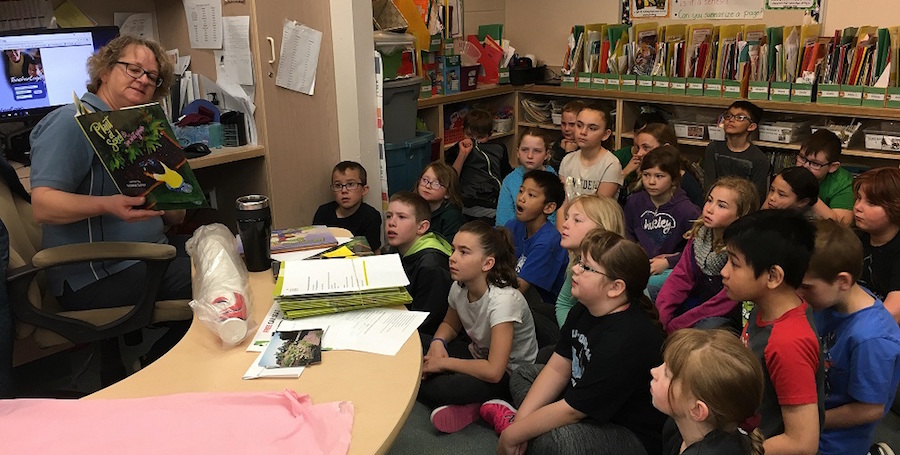 "The children were really excited to ask some good questions and they had some great answers!"
Laura Sabados, Branch Librarian, Stoughton Public Library, SK
Let's Hear from a Teacher
Feedback from educators involved in the Seeds and Inspiration and Plant a Seed-Read! programs has been wonderful, and we'd like to share a couple of quotes from Michelle Carlos, an Early Years & Middle Years Literacy Consultant and Teacher Librarian at Whyte Ridge School in Winnipeg, MB:
"The educational resources offered by Seeds of Inspiration were high quality with engaging illustrations for our early years students. The environmental focus fit perfectly with our curriculum needs and our students loved the hands on experiences of planting and identifying different seeds. Each Kindergarten teacher in our school division received the books in English or French to add to their classroom library. Our French Immersion teachers were delighted to have this beautiful picture book and activity booklet already translated for them. Since many of our schools offer outdoor education experiences, we are always looking for materials to bring the curriculum and nature together."

"As a teacher, these resources combine a number of themes. The picture book, "What to do with What you Grew," opens up conversations about empathy and helping others. It brings up the topic of sustainability and nutrition in our daily diets which is part of the health curriculum. As students learn where their food comes from, they will become well-informed global citizens. Thank-you for offering such fantastic, practical resources for today's busy classrooms."
Michelle Carlos, Early Years & Middle Years Literacy Consultant / Teacher Librarian, Whyte Ridge School
Moreover, our program survey results revealed that 92% of the teachers enjoyed the Seeds of Inspiration educational resources. 89% of the teachers also said that the materials met their expectations. This feedback along with the anecdotes from various educators and librarians, encourages us to continue our work to inspire children to have a lifelong love for plants, nature and the outdoors. We are proud to enable young minds and communities to see — their connection to the world as a natural place of wonder, filled with possibility.
Other Resources You May Be Interested In
---
Teachers, educational institutions and our partners are essential to the Foundation's work. However, another participant is essential to delivering programs such as Seeds of Inspiration to worthy young students – you! Without your help, we will not be able to expand our reach into your communities. Please sign up to be a Friend of the Foundation here, and if you're able, please donate. The future generations of Canada thank you in advance for your generosity!
---