Breaking the Link Between Discrimination and Food Security in Canada
The United Nations (UN) recognized Zero Discrimination Day falls on March 1 of each year, making it the perfect time to revisit an issue that is very important to our Foundation—food security. The two socioeconomic principles are closely tied together throughout the world, and for Canada the connection is no different.
A recent Canadian Community Health Survey (CCHS) study finds that household food insecurity impacts as much as 50% of households in northern First Nations communities. However, this is not a concern reserved to northern territories where access to food is more difficult. Manitoba and Saskatchewan, which have the largest proportion of First Nations people of all provinces, have extremely high numbers of food insecure children, at approximately 20 and 22 percent respectively. The discriminatory nature of food insecurity in Canada is not limited to just one "minority". For example, Black communities are 3.5 times more likely to experience food insecurity compared to white Canadians.
There is no denying the connection between food insecurity and racial and cultural status in our country, as the following food insecurity chart shows: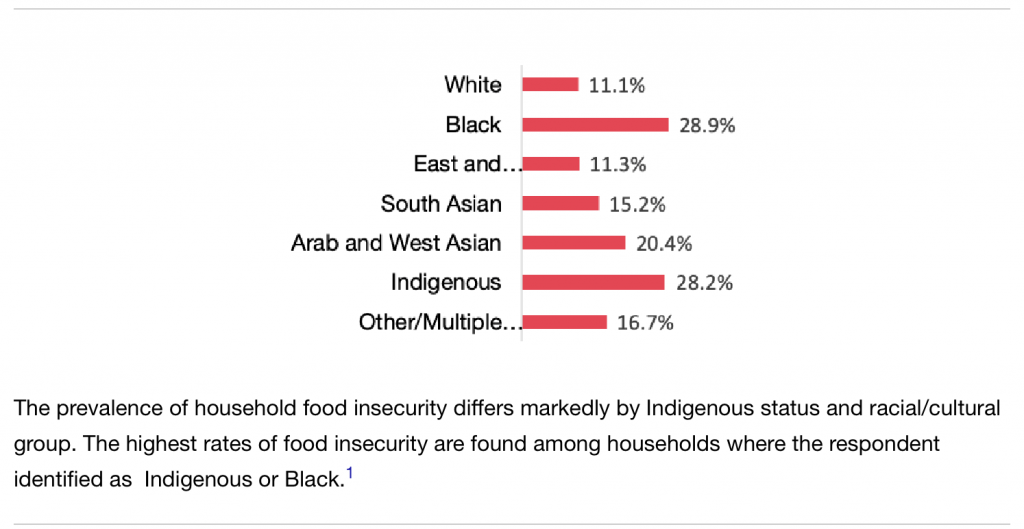 Let's now look to the unfortunate link between food insecurity and health care costs:
Annual health care costs (including costs of prescription drugs) are 23% higher in households with marginal food insecurity
Annual health care costs are 49% higher in households with moderate food insecurity
Annual health care costs are 121% higher in households with severe food insecurity
Canada, we have a problem.
What can be done? While the end-all solution requires combined government commitment at provincial and federal levels, communities are not powerless. There are steps that we can all take together to reduce food insecurity for everyone.
3 Ways Canadian Communities Can Pull Together to Help End Discriminatory Food Insecurity
I. By Integrating Food Security Concepts into Inclusive School Curriculums
Education leads the way when it comes to ending any socioeconomic problem. By raising awareness in the hearts and minds of our youth, those who will dictate our future, we create a sustainable solution for generations to come. This is one of the core principles of the Plant a Seed & See What Grows Foundation, and through the support of our partners and hardworking team we have reached more than 115,000 students (and counting!) across Canada. Our educational programs include Seeds of Inspiration (SOI). Not only does this provide food insecure youth with an opportunity to learn about how to grow their own food, the school gardens put nutritious food in their bellies via school breakfast, snack, and lunch initiatives.
Have a look at what the Foundation has been able to achieve in 2020. We hope that it inspires you to get involved and help put an end to a health crisis that Canada has lived with for far too long.
II. By Growing Community Gardens in Key Communities
Community garden initiatives need to be integrated into communities hardest hit by the combined blow of discrimination and food insecurity. Land within both urban and rural centres that have limited access to affordable and nutritious foods must be earmarked. If there is limited availability in parks and school grounds, rooftops (of schools or low income housing) and even old asphalt lots can be converted into gardens through the integration of raised planting beds. In fact, blacktop can be depaved to reveal natural and fertile earth beneath. In some cases greenhouses may need to be built, especially where climate and low-nutrient soil is not conducive to the growth of important fruits and vegetables. Seed storage programs must also be established to ensure that fresh crops can be planted each season.
View more about our Foundation's community garden and seed preservation programs and get started on building a community garden through this fundraising resource.
III. Commitment from the Natural Health Industry
The above programs can be supported at individual and household levels. However, there are other groups within our communities that can continue to stand with us in the fight against discrimination and food insecurity— the natural health industry.
To move this initiative forward members of the natural health industry can make a direct donation and become a proud supporter of Plant a Seed & See What Grows Foundation and its various programs. Natural health retailers can also leverage their position in the community by encouraging others to get involved through the following initiatives:
Customer Ask Days
Retailer Match-Up
Conduct a Fundraiser
Ask for Employee Participation
Peer to Peer Fundraising
Whether you are a marketing manager or C-level executive within the natural health retail industry we invite you to get involved. View more about how you can help us make a difference and put and end to food insecurity.
---
Let's Do This Canada, Your Country Needs You
---