International Day of Happiness was on March 20 but we waited to release this article because it's important to chase the feeling on the other 364 days of the year too. While there are a lot of things that make your child smile, such as a good book or a day out with family, the moments can be fleeting, particular during the events of recent months. For a more sustainable path to inner wellness we encourage you to look to nutrition. Below is a breakdown of mood-boosting foods to grow in your garden that will help your kids feel positive vibes.
Five Delicious Fruits and Vegetables for Kids that Have Happiness-Inducing Properties
Blueberries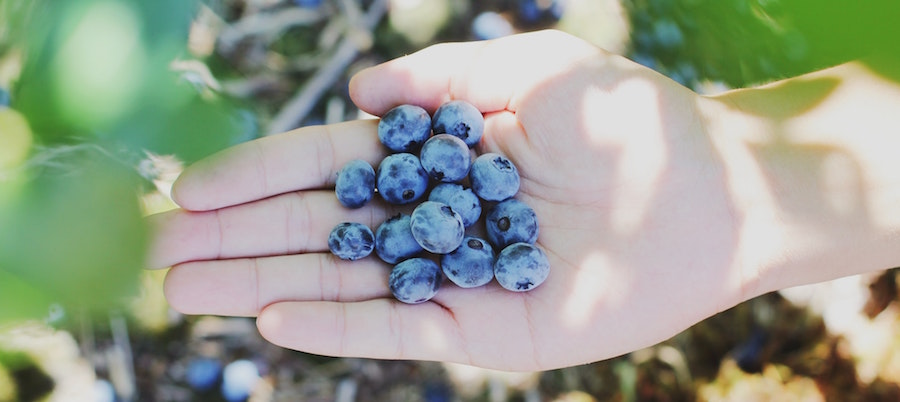 They taste great and younger tots love turning their fingers a Smurfy-blue when digging into a bowl of these sweet berries. Blueberries boast a variety of antioxidants and are packed with anthocyanins and polyphenols. These compounds play a role in combatting oxidative stress which is integral to elevating mood. Blueberries top our list of antioxidants that you can grow in your backyard and also take the cake as a snack for making your kids happy!
Pumpkins
Remember when we suggested that you save seeds from pumpkins when autumn festivities concluded? Perhaps you recall our article on how pumpkins can teach kids about food security? That's right, the bright-orange superfood is packed with all sorts of nutritional benefits, and it turns out that it's a mood-booster too. Pumpkins contain tryptophan an amino acid and neurotransmitter that produces the body's natural mood-enhancer known as serotonin. This food helps create a more relaxed state of happiness in your children, which can give YOU a nice break as well.
Sunflower Seeds 
Sunflowers are a common sight in the backyards of homes across Canada and they should be a staple in your landscape too. Like pumpkins, they are easy-to-grow in our moderate climate and their seeds contain tryptophan along with its serotonin-producing property. In addition, their powerful little seeds deliver a healthy dose of magnesium which is known to modulate activity of the body's stress-response system. In fact, studies find that magnesium is associated with improvement of neurobehavioral disorders in children. And of course, sunflowers simply have a cheerful appearance – which can make your child feel happy when looking out of the window on the rainiest of days.
Dark Leafy Greens
Dark leafy greens are high in Vitamin B-12, B9 (also known asfolate) and other B-vitamins. B-vitamins get an "A+" when it comes to producing natural brain chemicals that positively affect mood and other brain functions. Common leafy greens that you can grow in your garden include kale and spinach. Worried about getting your kids excited about eating these mood-boosting veggies? You can buy an affordable air-fryer, sprinkle on some of your kids' favorite herbs and spices, and make crispy kale or spinach chips within minutes!
Avocados
Comparable to their like-colored cousins – the dark leafy greens, avocados are high in the mood-enhancing folate. But this green egg-shaped wonder is also rich in the essential-fatty-acid (EFA) omega-3 which is great for the mood and brain health. In addition, the nutrients found in avocados are effective in regulating irritable stomach walls. We all know how an upset tummy can make an unhappy kid, so use this fruit to potentially help keep that from happening. Plus, all you need is one avocado from your local grocer to get the seed needed to grow another indoors. It's a mood-boosting treat and seed-growing activity in-one for your kids to enjoy.
---
Stay tuned for more from the Plant a Seed & See What Grows Foundation as we provide ways for how to support healthier (and happier!) children across Canada. Learn more about how you too can get involved.