How to Celebrate World Bicycle Day
World Bicycle Day pedals onto your calendar on June 3rd of each year. Unlike internet-created celebrations such as Opposite Day or Chocolate Cake Day (sign us up!) World Bicycle Day is in fact a United Nations day of observance:
"World Bicycle Day draws attention to the benefits of using the bicycle — a simple, affordable, clean and environmentally fit sustainable means of transportation. The bicycle contributes to cleaner air and less congestion and makes education, health care and other social services more accessible to the most vulnerable populations. A sustainable transport system that promotes economic growth, reduces inequalities while bolstering the fight against climate change is critical to achieving the Sustainable Development Goals." (UN)
Wondering how your family can recognize such an important day? We have some ideas, which tie into similar sustainability goals at a household level. Let's review!
3 Rewarding Ways to Celebrate World Bicycle Day by Repurposing and Recycling
---
Repurpose Your Bike/s as Functional Decor in Your Garden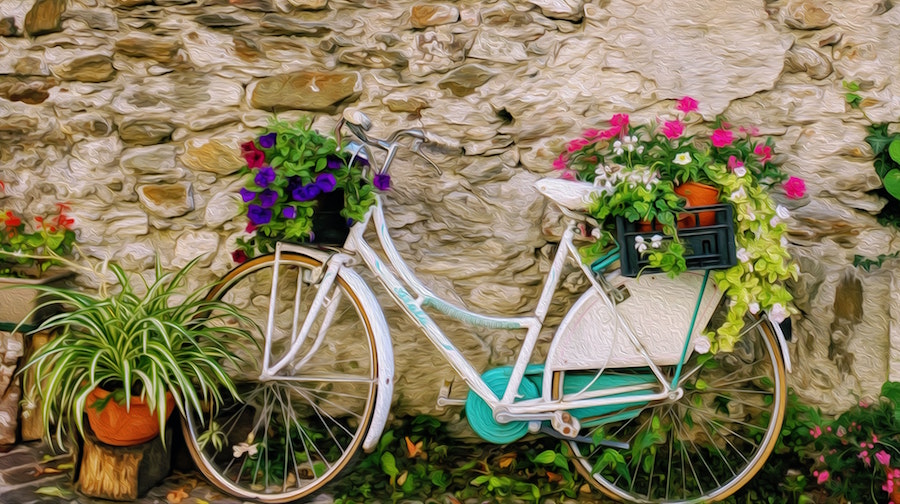 If you're like most Canadian family households, there's probably a bike or two in the basement, garage, shed, or storage room that hasn't seen the light of day since the training wheels came off. Instead of letting it collect even more dust, give it new life as a supporter of plant life in your yard and garden.
Tether a basket to the handlebars and backseat and place a planter within each. Choose plants that thrive in only 6 to 8 inches of soil. You may consider flowering varieties with medicinal properties such as lavender, or from a number of vegetables that also grow well in shallow pots, including arugula, broccoli raab, kale, garlic, green onions, watercress, and a variety of micro-greens.
Another benefit of repurposing a bike in the garden, is that it become a mobile planter. During harsh weather you can move it into a sheltered area in your outdoor space, or reposition it to give it access to rainwater or sunlight as needed.
Generate Electricity with Peddle Power
This is one inspiring project that will teach everyone in the family about engineering and sustainable energy production. Admittedly, it's not feasible or practical to generate enough electricity to power your home by turning an old bike into a human-powered generator. However, it can produce enough energy to charge a lightbulb, mobile devices, laptops, and small appliances such as dad's electric razor. At the very least it will be a fun science project that your kids will be excited about!

Where to begin? Most of the items will be found in the very same basement, shed, or garage that you pulled the old bike from. The rest can be purchased at your local Home Depot, Canadian Tire, or Lowe's (etc.). Reference this DIY guide to building a bicycle generator, which details everything you need, along with easy-to-follow steps to creating a working model that will stay with your kids for a lifetime.
*Parents: Let children focus on the bike and block fixtures while you carefully manage the battery and wiring. Don't worry, once constructed you can pass the hours of peddling on to them.
Recycle This Guide to Outdoor Learning Experiences by Bike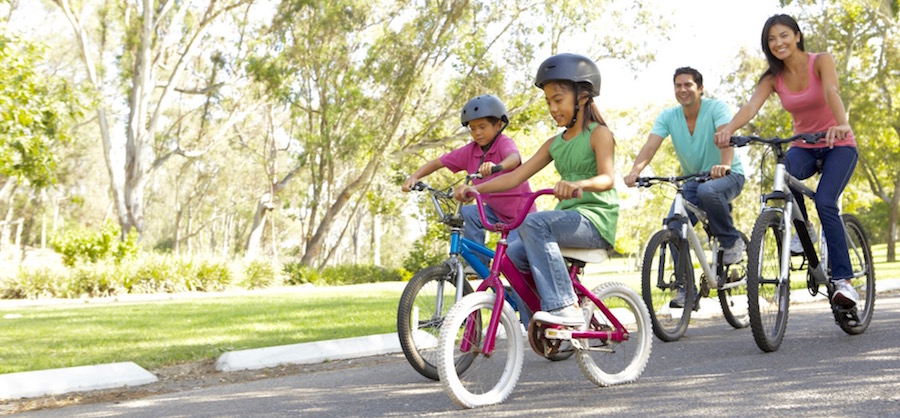 OK, we're cheating on the recycling concept a little with this one. But alas we wanted to revisit an article we published a few years ago about outdoor learning experiences the family can enjoy by bike. Activities include a scavenger hunt bike ride through a local eco-reserve, a two-wheeled tour of community gardens in your area, and an adventurous day on a forested mountain bike trail near you. View more on these outdoor learning concepts right here.
~ Happy World Bicycle Day ~
---