Partnerships with Natural Food Retailers Helps Build Healthy Communities
Developing partnerships is an integral part of our Foundation's goals to help build healthier communities across Canada. Among those unions, is a growing connection to natural foods retailers. After all, they are where households go to fill their pantries with nutritious foods, especially through the autumn and winter when farmers markets are far less accessible. Today, we're featuring one retailer (and friend of the Foundation) who is going beyond the call of duty to make a positive difference – Community Natural Foods. While you may not live (nor shop) near today's featured retailer, taking note of how they are taking greater responsibility can inspire you to make better consumer choices and demand the same from those in your own community.
How Community Natural Foods in Alberta Is Helping Us Make Canada, and the World, a Healthier Place to Live

Change For The Earth Program
One way this natural foods retailer has taken sustainability by the horns is through its Change For the Earth Program. Launched on Earth Day 2012, the initiative began as a bag credit donation program which allowed customers to donate to any not-for-profit company representing people, community and the planet, with Community Natural Foods matching the total amount of donations from its customers. As of 2019, the program has been updated to include all bags and containers, hashtagging it as #BYOC. From here on in customers receive a 2-cent credit for every bag and container they fill to donate to any 1 of 3 non-profit organizations being showcased each month. Some of the organizations involved in their Change For The Earth program include Breakfast Clubs of Canada, Habitat for Humanity, Canadian Parks and Wilderness Society, Horticultural Society, and many more, including yours truly – the Plant a Seed & See What Grows Foundation.
The Foundation was chosen to become a partner in the Change For the Earth Program because our work aligns with the retailer's corporate values of health and the planet's well-being. Together, these shared values also helps promote the 3Rs of the environment (reduce, reuse, recycle), while also raising awareness of how each person can change their behaviors to help the environment by reducing their plastic consumption. In addition, the direct donations obtained through the program help fund our other programs, which include the following:
Who knew going #BYOC could go so far!?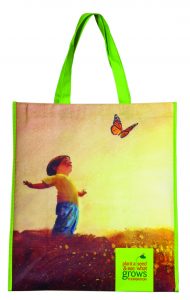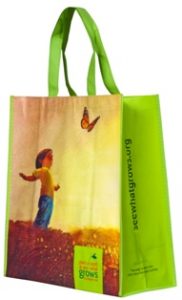 Meanwhile, other natural food retailers across Canada are also discouraging single-use plastic bags by purchasing the Foundation's shopping bag that it is made from recycled bottles, is reusable and recyclable. Plus, it carries a beautiful design in addition to the future fruits and vegetables within.
What This All Means To You
If you live in Calgary, Alberta today's feature points you towards a retailer who truly cares about their local and global community. But what if you don't? No problem, because by referencing everything above you will quickly learn to recognize retailers in your own neighborhood that have their own similar programs. And if you see the Plant a Seed & See What Grows bag within, you'll know you're off to a good start. For example, the province of Prince Edward Island (PEI) has banned the use of single use plastics and in turn a local PEI retailer has recently partnered with the Foundation to offer their customers an environmentally friendlier alternative.
Make a statement by spending your hard-earned dollar with stores who show they're supporting a cause that the economy can no longer afford to ignore.
---
Please sign up to be a Friend of the Foundation here, and if you're able, please donate. The future generations of Canada thank you in advance for your generosity!
---