Whether you find this article in time for World Oceans Day 2019, or days, weeks, or months after the fact is beside the point, as this year's theme will apply all the same. Conservation is the focus, with a mandate to "demonstrate leadership in preventing plastic pollution and share solutions that inspire and activate the global community". More importantly, is the call for youth to become more involved, as World Oceans Day Youth Advisory Council is working both behind the scenes and on the front lines to help stop the growing crisis of plastic pollution in the ocean. Of course, the earlier we reach youth, the better, as the seeds for change are planted at an early age. Today, we're providing parents with practical tips to teaching young children about the ocean plastic epidemic so that generations to come will not have to face the same critical concerns of today.
5 Things You Can Do To Teach Young Children About the Impact of Plastic on the Ocean
1. Inform Them Why We Need the World's Oceans
Young children have an affinity for the ocean because for it provides them with a saltwater playground. It's a place to frolic in the waves, collect seashells, discover crabs and other shoreline critters, and more. From the get-go you have their attention, which makes introducing the following tutorial even easier.
It's one thing to hear that the world needs healthy oceans, but to understand why is the only way to inspire young minds to make a real difference. This is one education plan that you want to take outdoors (shouldn't they all be?) to increase engagement, so print or download the National Oceanic and Atmospheric Administration infographic and head to a beach near your home and/or when on summer vacation to teach your kids why the world depends upon oceans for survival:

2. Straw Wars
One of the worst ocean plastic polluters is the very same drinking vessel that your kids use to consume juice boxes, smoothies, slushies, and more. Teach your kids about the negative impact of straws which in turn will make them more vigilant in and outside of the home.
Small changes can make a big difference. Avoid buying juice boxes with straws and skip using them altogether. Purchase reusable eco-friendly straws for your kids, which are available at many stores and online, complete with fun designs that your kids will get excited about. Armed with this more sustainable alternative, they can bring them with them to local restaurants, cafes, and anywhere else they may need to sip from a straw. If an establishment serves your family table drinks with straws before you can stop them, accept them (or they will throw them out) and have your kids keep the straws for reuse at home. Old straws can even be used for colorful art projects that send a message about sustainability.
3. Put a Cap on Plastic Bottles
Plastic bottles are another major ocean polluter and common item that your kids can learn to live without. From this day forward, never introduce a plastic bottle into the home and when out and about with your kids. They probably already have a reusable BPA-free bottle that they take to school, so buy one more that they can use at home, on vacation, and when heading out to play with friends. Not only will you help save the oceans, you'll save money!
4. "Designer Bags" (instead of plastic)
Plastic bags round out the trifecta of plastic enemies of the ocean. Not only do they introduce harmful chemicals into the sea and onto the reef (where applicable) they are mistaken by sea animals and mammals for food. Floating in the ocean, a plastic bag looks like a delectable jellyfish to sea turtles, tuna, rockfish, sharks, swordfish, salmon, penguins, and a variety of seabirds. Teach your kids about the species of sea life that feed upon jellyfish and how a plastic bag in the ocean can end up in their respective digestive systems.
With this information, your kids will want to learn more about alternatives. After all, they still need something to take with them to the mall and weekend farmers market. There are reusable bags available everywhere for them to choose from, but you can use this as an opportunity for a functional art project too. Take a plain reusable cloth bag, and together with your kids sew on patches of their favorite characters (etc.) and/or use eco-friendly fabric paint to make their bags "pop" with vibrant colors and fun designs.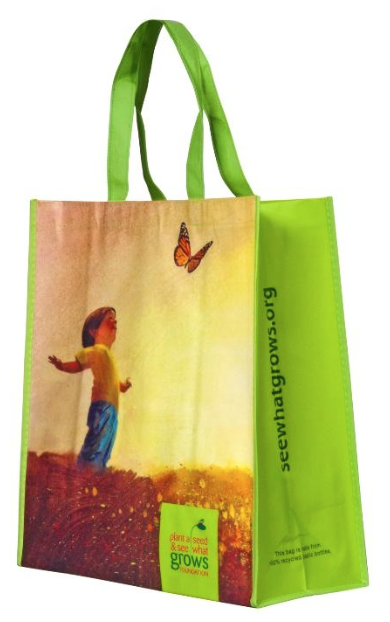 Do you need recycled, reusable & recyclable (#5) beautiful shopping bags that supports the work of the Foundation? Click here to visit our shop page.
5. Start a Weekly Beach Clean Up
This activity may be seen as an inevitable conclusion, especially since we've included it on past lists of how to celebrate World Oceans Day and other ideas for outdoor learning experiences. But alas there is nary a more engaging way to get your young children excited about keeping plastic out of the ocean. In learning everything above, they now know what to watch out for along the shoreline, and armed with a recyclable (not plastic) bag, gloves, and garbage tongs can hit the beach with family and/or friends and pick up any plastic that they come across. Not only will this weekly activity have a direct impact on the health of the ocean near them, they'll find that their actions are positively infectious as beachgoers note their good deeds, thank them for making a difference, and become inspired themselves to follow suit and do the same. This feedback from the local beach community will instill a sense of pride in your young children that will reverberate for years if not decades to come, providing them with an absolutely priceless experience.
~ Happy World Oceans Day, Every Day ~
========================================================
For more on the work of the Foundation, please visit our Funded Programs page. There are many ways you can get involved with the Plant a Seed & See What Grows Foundation – you can visit our Get Involved page, Help Fundraise, or Donate Now.
---
Looking for youth activists for inspiration? Get to know them at @RachelsNews @AshafortheWorld
Or young role models who are making a difference now?
Read about them here.