HOW TO CELEBRATE WORLD OCEANS DAY – PART II
A few years ago, we provided a guide to fun outdoor learning activities for your kids/students to honor World Oceans Day (June 8). 2021 marks a good time for an update to account for the fact that while progress has been made, we still have a lot of work to do to free the ocean of human pollutants. Below is one highly enjoyable activity for kids/students that will help protect Canada's precious marine resources.
A TREASURE HUNTING EXPEDITION TO RID THE OCEAN OF HARMFUL POLLUTANTS WHILE TEACHING KIDS ABOUT MARINE STEWARDSHIP
---
GO FISHING…FOR FISHING JUNK
Plastic straws, cutlery and bags get the most press when it comes to ocean pollutants. However, studies show that the biggest culprits are not restaurants and grocery chains, but those within the fishing industry. Data shows that fishing gear makes up a much more significant proportion of large plastic pollution. Fishing nets, buoys, and rope are all made of plastic and other harmful materials. Disconcertingly, most of the gear is not accidentally lost in the act of fishing. Recent reports state that over 640,000 tonnes of nets, lines, pots and traps used in commercial fishing are purposefully dumped and discarded into the ocean each year.
Fisheries and Oceans Canada together with commercial fish harvesters have collaborated on a number of initiatives to reduce this form of marine pollution. For instance, since 2018, all fixed-gear fisheries in Atlantic Canada are required to report lost and retrieved gear. This leads us to your kids/students recommended activity.
Nautical Decor for Your Home or School Garden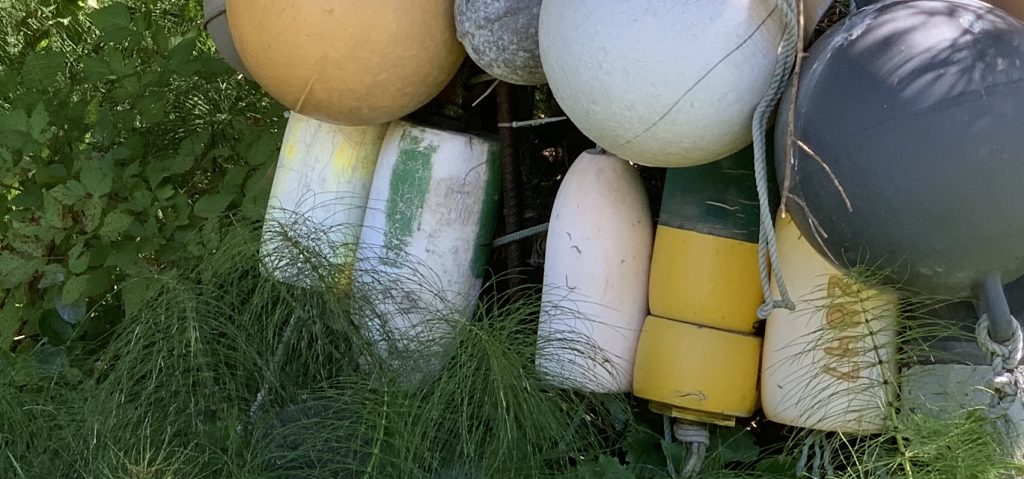 This World Oceans Day (or any day, for that matter) take your kids to the nearest coastal body of water and go hunting for fishing junk. How is this different than a typical beach clean-up?Because fishing junk is treasure as exterior decor! All over Canada the exteriors of homes, cafes, and boutique shops near oceans, lakes, and waterways are adorned with found fishing nets, buoys, and nautical rope. Artisans also use it to create fun and fanciful seafaring works that are sold in their Etsy stores and at local outdoor markets. Let this inspire your kids/students to decorate the exterior of your home or school garden. For one, they can artfully drape torn fishing nets along the sides of the fence. In addition, they can paint and hang lobster buoys from the pickets, and also use the buoys to ornament tree limb stumps and the outside of the garden shed. Rope can be wrapped around fence posts to add even more nautical flare. Young artists in your home or class may even consider repurposing the items into works of art for sale at a local market, and can devote a portion of the proceeds to ocean conservation. 
Where and When to Hunt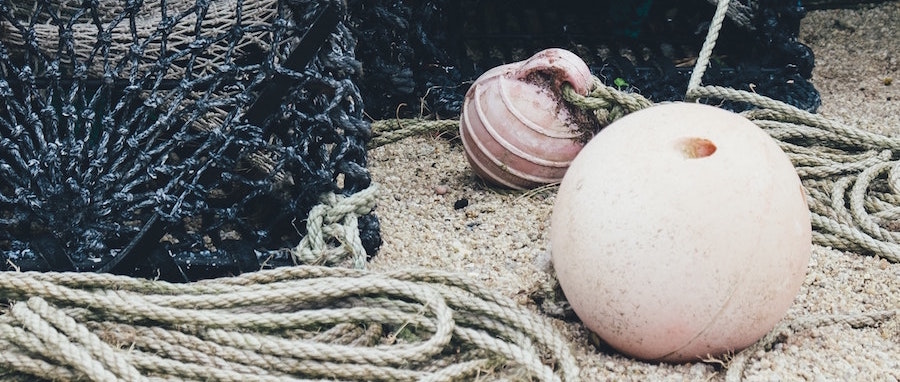 Fishing junk is not as easy to find as a plastic straw on the beach. However, this is what makes the activity way more fun for your kids!
Where should you look? Within the rocks of jetties and the piles of boulders that are used to buffer sea walls from waves. Nets, ropes, and buoys get lodged in-between and are often hidden within the stone nooks and crannies. For this reason they are rarely retrieved. Unfortunately, they inevitably get dislodged during high-tide and make their way back out to sea and wreak havoc on the eco-system. This is why it's so important to find them first. Need examples of prime fishing junk territory? If in the Greater Vancouver BC area, waterfront destinations such as White Rock in addition to the Stanley Park and North-to-West Vancouver seawall are great places to discover abandoned fishing gear.
When should you look? During low-level low tide. During low tide there is more walkable space and no threat of incoming waves. You and your kids can walk along the shore and inspect between the rocks to uncover lost fishing treasure. Bigger kids (aged 10+) can climb bigger boulders of the jetty or sea wall to get a better look, while smaller kids can comb those found at the shoreline. Use Fisheries and Oceans Canada's online tool for Tides, Currents, and Water Levels to plan the outdoor learning experience for your coastal community. If you go a few days after a major windstorm the odds of finding lost gear are significantly higher, so bring large bags and backpacks to collect and cary it all.
Return to Sender?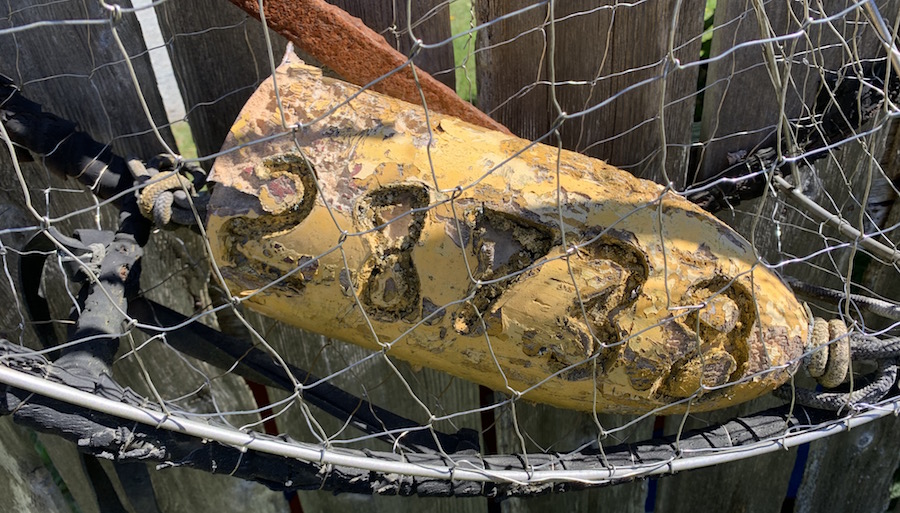 In some cases, your kids may notice that items, especially buoys, have markers on them. They resemble serial numbers, and will either be carved into the buoy or scribbled-in with black waterproof ink. This is done by some commercial fisheries to abide by Fisheries and Oceans Canada's mandate to report and retrieve lost fishing gear. When nets, crab cages, and buoys have markers there is a chance that they can be traced back to their rightful owners. While the odds of matching lost gear to a fisher-person or commercial fishery are long, the process itself is educational and fun for kids/students.
Contact local harbors and marinas where commercial fishing boats operate. In some cases, marine patrol (or other governing bodies) will have developed a system to return salvageable buoys, cages, and nets to the fishers that lost them. When a system exists, there will be designated locations where buoys and gear can be left for retrieval by local crab/lobster-catchers and fishers. These designated areas typically include piers and outside of a harbormasters' office. If such a system does not exist, have your kids/students put together a booklet presentation and send it to the local harbormaster to pitch the concept. They may be very receptive to the idea! If you don't get feedback from commercial operators, you may have more luck presenting the idea to independent fishers and lobster/crab trappers. At the very least they may be happy to use unclaimed nets and buoys themselves, which supports reuse/recycle initiatives.
~
If you've been inspired to free the ocean of lost nautical treasure and used it to decorate your home or school garden, we'd love to see it! Feel free to tag us on Facebook and Instagram when posting the images.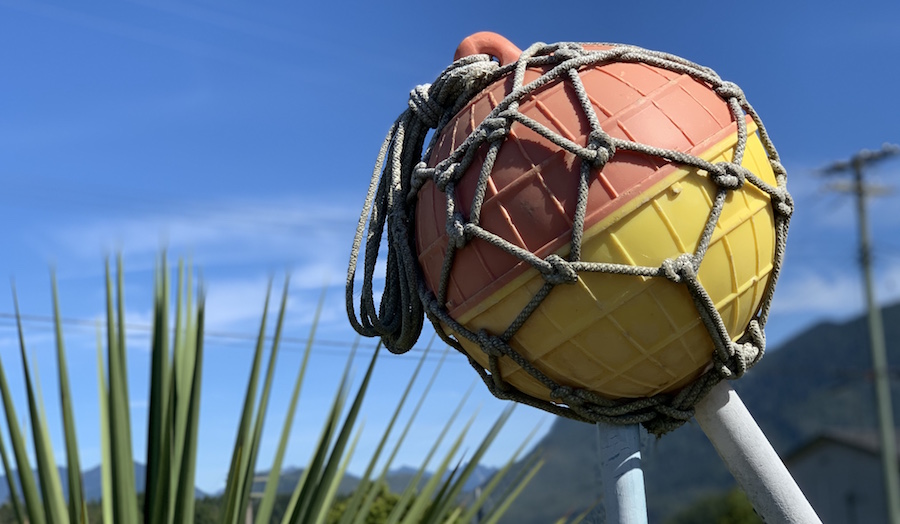 ~ Happy World Oceans Day, Every Day ~
---