Helping Canadian Kids Learn How Food Grows
From tomato plants on balconies to backyard and community gardens, more and more people of all ages are taking time to cultivate their own food. With summer comes the opportunity for kids to get involved in gardening and discover what may become a life-long passion for growing.
At Plant a Seed & See What Grows Foundation, we're very proud to help local public libraries across Canada engage kids in conversations about our land and our food.
Our popular Plant a Seed-READ! program helps kids learn about the origins of food, plants and what it takes to help young seedlings grow. After an interactive story telling session, kids get to take part in planting. They also bring home a baby plant. This free-of-charge program provides preschool and primary grade educational materials in English and French to libraries as well as natural health product retailers across the country.
Planting Green Ideas at Idea Exchange

Recently in Cambridge, Ontario, 50 children and parents gathered at Idea Exchange. Bringing together community partners to celebrate all things green, the special event featured seed games, all-ages activities and a photo op with Freggie, the official produce mascot of the Ontario Produce Marketing Association.
Plant a Seed & See What Grows Foundation participated at the event that also included local community partners Preston Community Garden, Lang's Healthy Beginnings Program, rare Charitable Research Reserve and the Region of Waterloo Green Bin Team.
Emma Campbell, Library Assistant, shares that Idea Exchange "is dedicated to creating an environment of curiosity and discovery, meeting the lifelong learning, reading and creative needs of our community at five locations across the City of Cambridge." The Preston location was an ideal venue for the all-ages event. It features vegetable and flower gardens maintained by enthusiastic volunteers of all ages who help with planting and harvesting.
Campbell explains, "This location offers a seed library for community members. They can donate seeds and take seeds for their own gardens. We believe that discovery happens at every age and we invite our community to join us. Idea Exchange offers free access to library materials and services. We also offer online databases and courses, a variety of programs, events and art exhibitions."
Donated Seeds, Books & Activities Help Kids See How Plants Grow

Working with the Plant a Seed & Read Foundation was a natural fit for Idea Exchange because gardening and seeds are an important focus of the organization. Campbell shares, "In addition to participating at the event, Plant a Seed & See What Grows Foundation donated seed packs to our library and two fantastic books about planting and growing to our collection. Filled with great illustrations, the books are ideal for the preschool/primary age groups."
Outdoor activities are a major focus for Idea Exchange, particularly in the spring and summer months. Campbell notes that local "parents and children help plant and harvest every year. We offer garden story times, game programs and, new this year, a French gardening program!"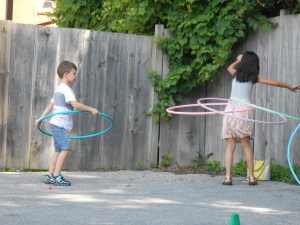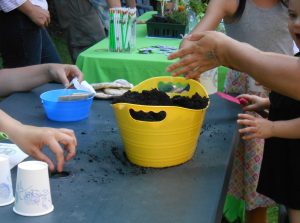 Idea Exchange offers garden story times, game programs and, new this year, a French gardening program!
A representative from Fiddleheads Health and Nutrition, a natural health retailer with multiple locations across Kitchener-Waterloo, Ontario also took part in the Idea Exchange event. Leslie Pelerine, Marketing Manager, volunteered at the event. She noted that Fiddleheads was looking to do some community outreach. They wanted to "support a local initiative that helps educate about the future of gardening and the environment."
As a volunteer, Pelerine found the event to be very personally rewarding. She shared that, "It was fun to see the children get so excited about planting, seeds, harvesting and growing crops! Plant a Seed-READ! is a great way to educate kids about seeds and how they grow in a fun and informative way."
A Story Time That Cultivates Young Minds
The Foundation's Plant a Seed-READ! program aims to reach toddlers, preschoolers and youngsters through story telling in public libraries across Canada. We support an interactive reading experience by discussing the elements needed to successfully grow plants. Afterwards, we also talk about where food comes from and do an actual planting activity.
Similar to this event, the Plant a READ! program has been nurturing young bookworms in other public libraries in Ontario such as Norwich, Lincoln and in British Columbia's Coquitlam Public Library. In that library, more than 60 kids took part in the Plant a Seed-READ! events in both branches. Barbara Weston, Manager, Programming and Community Connections, Coquitlam Public Library, shares why they liked the program, "We were looking for summer activities for kids that were hands-on, science-based and fun."
There's a growing movement across North American public libraries to engage kids and youth in outdoors activities. For example, the Sun Ray Natural Library Project in St. Paul, Minnesota engages residents in a family nature club, greening projects as well as trains youth in environmental stewardship.
At every Plant a Seed-READ! library event we provide complimentary lesson materials, organic, non-GMO seeds, a themed‐colouring book and coloured pencils. The Foundation also donates two empowering children's storybooks "Plant a Seed & See What Grows" and "What to Do with What You Grew both written by Roland Gahler. These children's books are also available for borrowing from Ontario libraries such as Norwich, Lincoln, Idea Exchange as well as select libraries in the Greater Vancouver Area.
Join Us Today & See What Grows Across Canada
As a registered national charity, we create opportunities for children to explore the outdoors and be inspired by the breathtaking wonders of the natural world around them!
Our programs create moments of inspiration that can last a lifetime—in classrooms, in school gardens, by farm visits, and other outdoor educational activities. Through these outdoor experiences, we hope to nurture a healthier generation of children and help kids learn to become good stewards of planet earth.
Please visit this link to learn more about our work. We invite you to become a Friend of the Foundation.
---